Top vBlog 2016 Results
So, I've been meaning to blog about this for a while now although it is somehow late to do so because the results were out a month ago.
I would definitely start by thanking the community first for being what it is, as it is because it feels great to have a vFamily throughout the mayhem of technology, and of course thanks are extended to Eric Siebert whom has solely taken the burden of creation/maintenance and coverage of such an awesome community competition.
So a little bit of history on doOdzZZ's Notes:
I started the blog back in 2012.
The idea of the blog was/still to document things that I would like to share with my team mates and a reference to myself and a way to contribute with the community which helps us all when researching for certain topics.
In 2013 my blog was enrolled into the competition and in the results my blog came in 237th place out of 243 blogs.
In 2014 results my blog came 257th out of 320 blogs, 14th Favorite Storage Blog and 28th Favorite Independent Blogger.
In 2015 results my blog came 190th out of 411 blogs, and 18th Favorite VDI Blog.
In 2016 results my blog came 95th out of 321 blogs, and 20th Favorite Independent Blogger.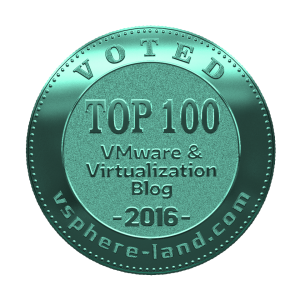 If this shows anything, it reflects that we have a great and a vast vCommunity and it proves that if you keep focused on your goals and do not stray you will eventually make it, true passion towards anything you nurture will eventually get noticed and it will reflect itself automatically.
I am truly proud of this achievement and this raises the bar a lot and I truly hope that I will be able to keep up whatever it is that I am doing right to deserve this ;-), A HUGE-BIG-ENORMOUS*ALEPH thanks to those who voted for me and are actually enduring my blabber especially the philosophical ones.
1547 Total Views
3 Views Today