VCAP6-DCV Design – Exam Experience
A bit late with this post but it still in my head as if I did the exam today. Most of the time when I pursue certificate I do it with major confidence but with this certification I wasn't much confident at all. Why?
I do not do designs as a day-to-day job.
I have had my share in design participation but I wasn't the only one driving the discussions.
At a point in time in Lebanon we didn't have any exam centers that offered VMware's advanced certifications and this was a major issue as I had to travel.
On the other hand what I had was the technical experience around the product and the experience I have in IT, I would say that my preparation for the VCAP Design exam started back when VCAP5-DCD was released but now was the time to actually go and do it, plus the thing which pushed me further is that we needed the certification at work or namely the VCIX-DCV entitlement.
I went to the PearsonVUE portal to register for the exam and as I do always I check for local exam centers to see if the exam is available and to my surprise I found it available at a center near by so I called them and confirmed that they can actually host and download them exam (+1 push).
So on November 2016 I cornered myself to sit for the exam on the 27th of December and I put my mind into it!
I went through all the exam experience blogs I could get my eyes on.
I got through the blueprint point be point.
I did a quick go-through the books/e-books related to vSphere design that I had already read.
The exam simulator found on VirtualTiers is awesome literally!
Reviewed as much designs I could get my hands on (VMware and none VMware products, because the mindset doesn't change if the product changes *IMHO*).
One more thing that worried me the most was the internet connection, I didn't know if it had the same requirement as the Deploy exam and in Lebanon the internet connection is more turtle than rabbit :/.
Moving on to the 27th of December, I wasn't 100% certain that I would be taking the exam until the exam download finished the exam took around 40 minutes to download *this struck fear into me*.
Entering the exam room, which had only two computers and no one was there but me I started by accepting the agreements and I clicked next…
I directly tested the going back feature (risky yes but I had to calm myself), I went through all the questions and decided to mark all the non-design (non-drawing) questions for review and started with the design questions.
To my surprise the whole interface was smooth, fast and pretty much reliable to what I had in my mind. I thought I would be battling with the tool in order to make my diagrams align and so but I didn't need to.
I got a couple of small white boards from the testing center administrator as I thought drawing the designs on them first and then applying them on screen would be much faster, I did use them for some questions but other question I didn't.
The whole exam experience generally was pleasant, breath taking, heart aching, head spinning but pleasant. Because once I got into the mood I found myself answering the questions that I love to answer and not just answering exam questions, I was actually delving into my years of experience to get out with the result that satisfied what I would do for a customer in real life.
After finishing the design questions I went to the other questions that require you to be a book worm :-D which I am not! And I answered them in the most adequate way and I commented on most of them to state how frustrated I am with such questions, and I am sure I didn't answer those very well (really I won't lie to you or myself).
After going through everything and keenly making sure all my drawing were saved from question to question (Actually I did that a lot after finishing each design just to make sure that the stuff I drew remained) and it was the time to stop breathing and click finish, are you sure? No I am not sure but here goes…
AND IT WAS A PASS *starts dancing in front of the PearsonVUE camera* =)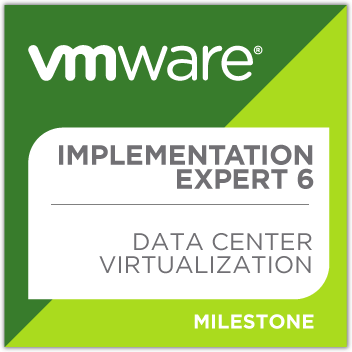 And now I have experienced the design VCAP exam and really felt good about it, especially the part where you know that your experience and all the hard moments you went through in your career actually got to be used fully!
I would very much thank everyone who encouraged me to go for it and gave me all the precious advice on how to shift into the conceptual and logical mindset rather than just sticking into the physical one.
(Abdullah)^2
3912 Total Views
9 Views Today