Create a VM template with VMWare Workstation 8
Most of the times I need to setup VMs quickly on my workstation for swift POC's, so rather than setting up a new VM manually from ground zero in order to save time I decided to create a couple of templates that will save me at least 20-30 minutes of initial setup an configuration.
Before thinking of creating a template, I thought I'd be able to create a virtual machine using the CLI but sadly neither vmrun.exe nor vmplayer.exe (both found in the installation directory of VMware workstation) did help.
Since most of my VMs are Microsoft's Windows Server 2008, I'm going to rely on it to fulfill this post.
Step[1]:
Create your virtual machine and configure it, from my point of view two things are a must:
Install VMware Tools
Configure ICT (this is a very important tool for configuring a new server – MAKE IT A HABIT).
Other than the above you should tend while configuring the virtual machine to globalize it's content, this is what a template suggests "to be able to use it as a general purpose resource".
Step[2]:
After the virtual machine is configured we need to prepare it at the operating system level before commencing with configuring it as a template for VMware Workstation 8, for that Microsoft provides its Windows Server 2008 with a tool called 'SysPrep' and from what it sounds like obviously it means 'System Preparation' =).
1- Go to start -> run -> type sysprep
2- This will open a new window leading to (C:\Windows\System32\sysprep) where the sysprep files reside.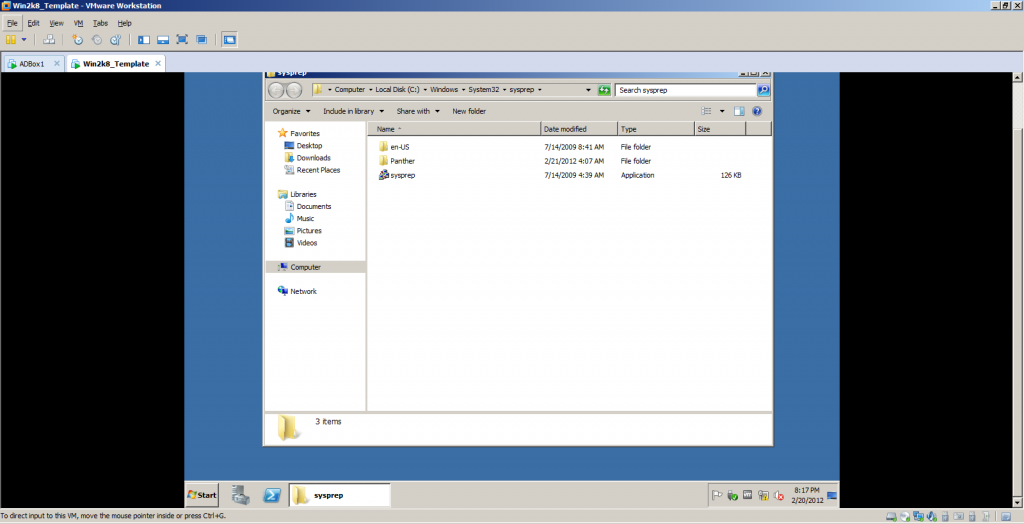 3- Start the sysprep tool, the tool will simply reset the state of your OS to the initial state of installation including the GUID (computer's globally unique identifier) and the MSID (Machine Security Identifier) whom both are unique especially in an Active Directory environment. Once the tool launches configure it according to thereunder steps:
System Cleanup Action: Enter System Out-of-Box Experience (OOBE)
Check Generalize
Shutdown Options: Shutdown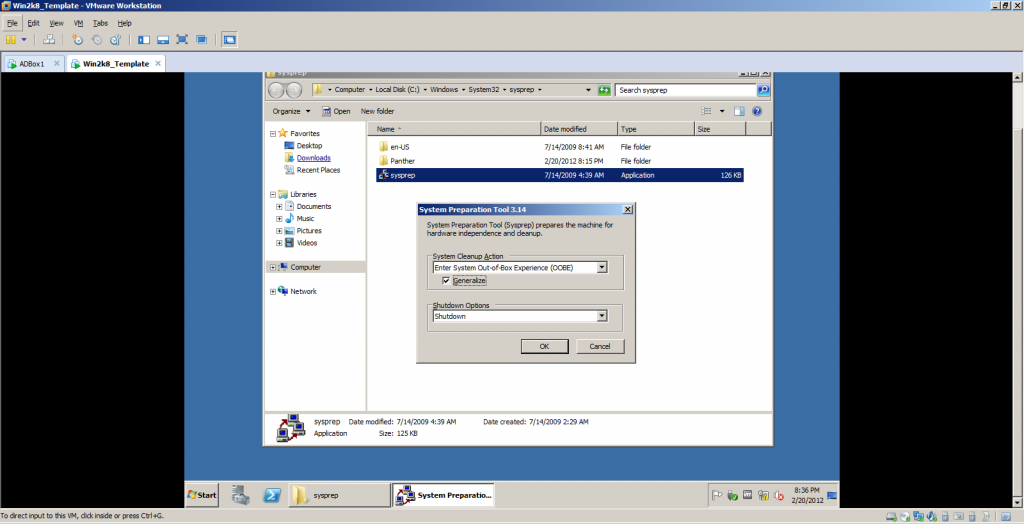 4- Press okay and let SysPrep do it's magic.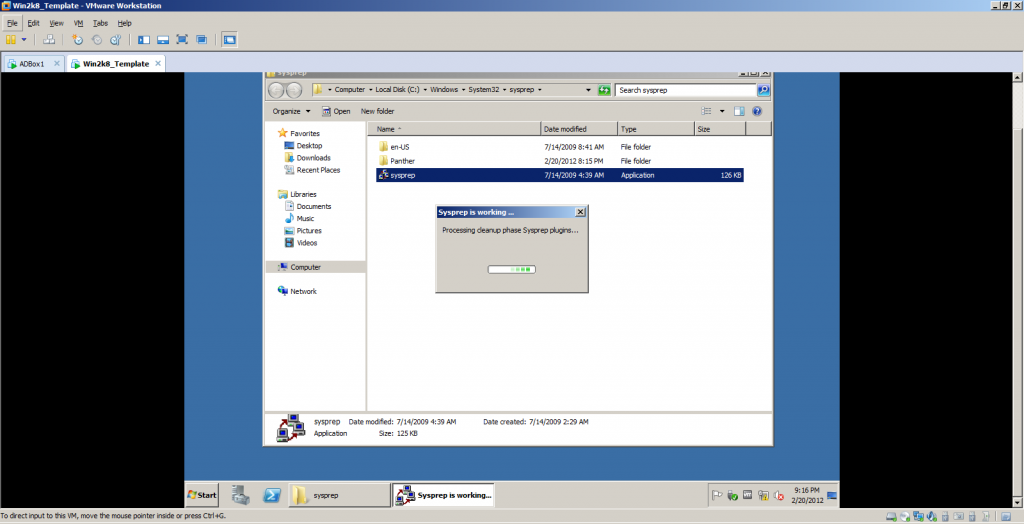 5- When sysprep is done, it will shutdown the system.
Step[3]:
Now that our virtual machine is prepared and ready, here comes the VMware Workstation part. Now we can just modify the virtual machine's properties to make it act as a template for cloning, or we can do what is better and create a snapshot then create our clones from this snapshot.
Note that the following part is going to be done from CLI, never then less it can be done from the GUI as well but as it has been since the very dawn of the command line, everything that can be scripted is for sure better and efficient.
Run cmd
Type : cd "C:\Program Files (x86)\VMware\VMware Workstation\"
Type: vmrun snapshot <path to the .vmx file of the virtual machine>  <snapshot name>
Now you have a snapshot created, you can use: vmrun listsnapshots <path to the .vmx file of the virtual machine> showTree to list snapshots.

Step[4]:
Modify the virtual machine properties to enable "Template Mode" this will help us when cloning the virtual machine to be detected as a template.
Go to your virtual machine's settings.
Select the options tab.
Select the advanced option
Check "Enable Template Mode (to be used for cloning)".
Click Ok.
Step[5]:
Now for the result of our work, we're going to create a clone from the snapshot which we've take earlier also using vmrun
Run cmd
Type : cd "C:\Program Files (x86)\VMware\VMware Workstation\"
Type: vmrun clone <path to the .vmx file of the virtual machine> <path to the new .vmx file of the new VM> full|linked  <snapshot name>
So there you have it, you set the paths correctly and choose the clone whether you want it to be a full or linked, full will create a fully separate virtual machine and linked will create a dependent virtual machine (Which means that the original template virtual machine must be running when running this) of course linked requires less disk space.

Step[6]:
Go to to path of the new virtual machine and double click on it so that it would load into VMware Workstation 8 panel, and voila you have you new healthy virtual machine.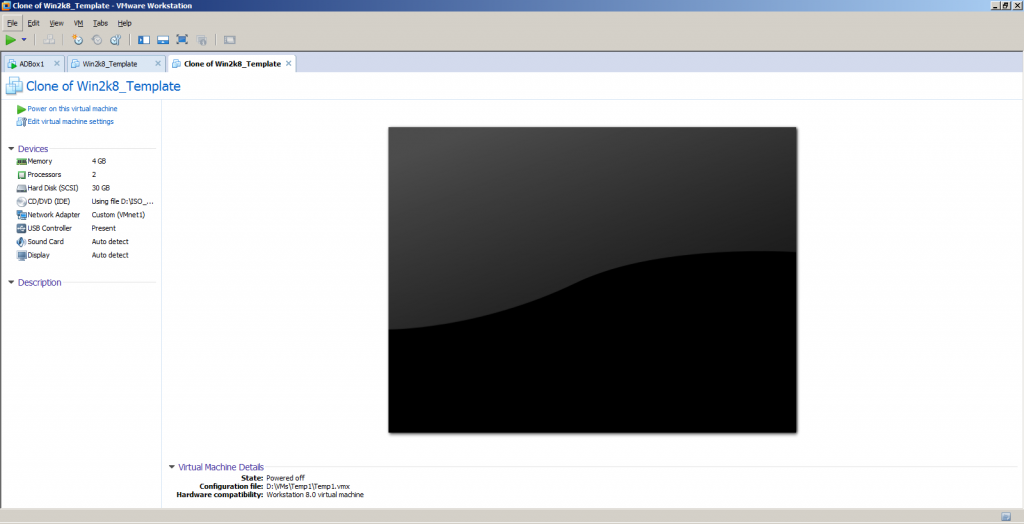 Enjoy cloning =).
12636 Total Views
9 Views Today